Sex, Drugs, and Mental Health: Weathers Rocks Lola's Room
Laurel Brinson, Station Manager
October 27, 2021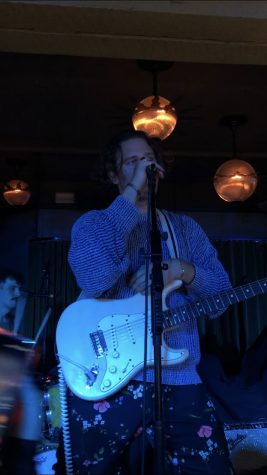 Last week, Weathers performed at Lola's Room with openers Aaron Taos and Kenzo Cregan. The audience was one of the best I've been a part of; enthusiastically screaming when Kenzo Cregan's quirky, tophat-adorned keyboardist played while bent backwards and yelling compliments about Aaron Taos' pants. The opening bands also joined us in the pit for the entirety of Weathers' set and rocked out just as hard as the rest of us. 
If you like live music around Portland, then you know about McMennamin's Crystal Ballroom and their bouncing floors. Lola's Room, the Ballroom's intimate "little sister," has the same great bouncing floors but the stage is basically in the crowd. I was in the second row in a crowd of about 50 and I could touch the stage, which was only about a foot and a half off the ground. When the musicians came to the front of the stage, they leaned out and were basically in my face, and the people in front of me told me after that they kept worrying about being hit in the face with the guitars because we were just that close.
I had tickets for Weathers for March of 2020 so for particular unnamed reasons, I was unable to see them. At the time, I only knew two of their songs. When I finally got to go see them in October of 2021, 19 months later, I still only knew two of their songs. Their best-known hit, "Happy Pills", is one of my top five favorite songs of all time, so it was worth going just to see that song performed. The whole front row were people who had done a VIP meet and greet so I felt a little out of place surrounded by people who knew every word but it didn't stop me from loving every second of the show.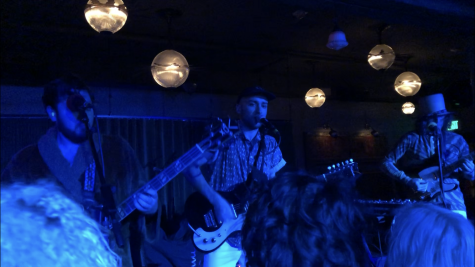 Weathers is known to focus on issues surrounding mental health and they have talked a lot about it in the past (you can read an article about that here). The Los Angeles rock band definitely brought to the stage the persona of sex, drugs, and rock and roll but they also seemed to genuinely care about how the audience was doing. Their set started out with an audio recording of a frustrating therapy session and frontman Cameron Boyer gave the audience a trigger warning before playing a new song with similar themes. "You haven't had time to process the lyrics yet so I wanted to give you a heads-up," he kindly remarked to the crowd. As someone who only knows the lyrics to "I'm Not Ok" and "Happy Pills," I was quick to pick up on themes from the rest of the songs that revolved around it being okay to not be okay. But not all of their lyrics are therapy and hugs. Songs like "American Dream" and "Problems" deal with the drug and alcohol use that frequently accompany mental illnesses like anxiety and depression. "I don't know if I can get out of bed/ My mama said that there's nothing wrong / My eyes are fogged up, haven't taken a hit" Boyer sings in the cheery "Problems" as the crowd sings along with gusto. In an interview with Hollywood Life in June, Boyer said, "I've felt for a long time that there is a relatively silent but dangerous theme sprouting throughout the mental health community. That theme being that it's almost "cool" and "fun" to not be ok. And while it's always ok to not be ok, I believe it's dangerous to start thinking it's "cool" to not be ok." Their second album, Pillows & Therapy (August 2021), is meant to be a sequel to debut album Kids in the Night by showcasing "how we've grown while expanding the scope to what it means to actually want to get better." Despite all of the heavy topics and the adult themes, the audience was mostly younger fans who hung onto every word that was sung. Weathers' set featured a two song encore (complete with a costume change) and a whole lot of jumping from the band and the crowd. After the show all three bands hung around to talk to anyone who wanted to and signed merch and everyone was super nice and genuine. 
If you get a chance to catch Weathers on their next tour, I highly recommend trying to make it out. I equally recommend seeing any show in Lola's Room if you want a night of moving floors and an intimate performance. I'm going to be adding Aaron Taos and Kenzo Cregan to my playlist and so should you.