Peace, Love, and Booty: A Night with Planet Booty at Bombs Away Cafe
Andrew Foran, Music Director
November 16, 2021
When you hear the name Planet Booty, a lot of different images might come to mind. I'll just cut to the chase and say that all of those images accurately describe the band. The electro-funk outfit from the bay area brought their messages of love, kindness and booty shaking to Bombs Away Cafe on Tuesday night and their funk was insatiable.
The atmosphere inside this cafe shifted from a chill, hippie vibe during the day to an absolute self-love fest, covered in sequins and glitter, during the night. Planet Booty's lead singer, Dylan Germick, brought not only incredible vocals to the stage last night but also amazing advice: find something to say "YES" to every day, whether it's a moment of peace, the feeling of your feet leaving the ground in a mosh pit, or a moment of complete self-love and acceptance.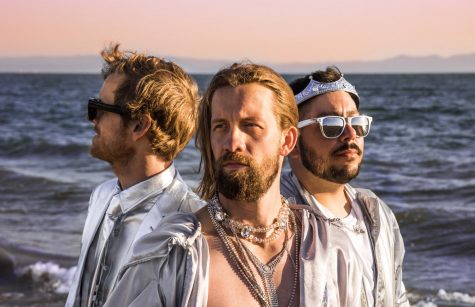 From the moment the band took the stage, the music and booty shaking never stopped. It was song after song asking you to consensually and respectfully shake your groove thing. Anthems like "Take Your Pants Off" and "Only If You Say Yes" preach themes of respect, consent and positivity. It may seem strange coming from a band whose main focus is sex based tunes, but the vibe in the room was sexy and respectful.
The audience was not entirely unexpected for a band called Planet Booty. There was a mix of a few younger adults, 21 and over of course, but most of the crowd was more middle aged, and they came to let it all out for the night. Lot's of moms dancing around and letting loose all night long, shaking it with the band. It was quite the sight for anyone not involved in the madness. I had the honor of standing next to the door and as the night passed on I watched many passersby look in, mouths agape, at the shirtless Germick with his gold star pasties.
For what could've been a quiet Tuesday night in Corvallis, Planet Booty brought a nice dose of insanity to the small town and just as quickly as they began, it felt like it was over. It will be impossible to forget that show though, because above all else, they put on a damn fine show. 
Was this article helpful?