Tyler, The Creator and My Growth Through His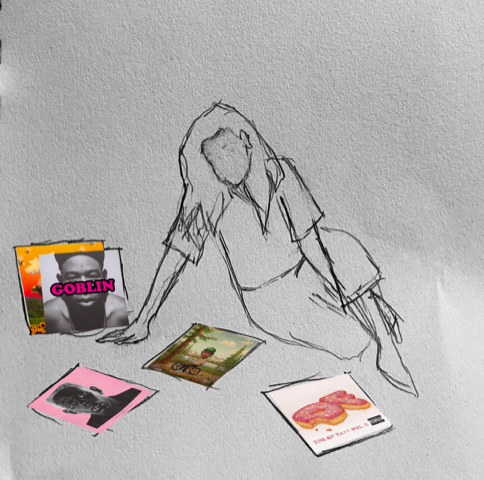 Cailan Menius-Rash
April 7, 2023
Tyler, the Creator has been a prolific figure for many who have witnessed his transition from abrasive hooligan to renowned musical visionary. Now a decorated figure in the Hip Hop industry, Tyler's beginnings were far from fit for the Grammy stage. Goblin, Tyler's debut album, included garishly offensive lyrics and unsettling visuals seemingly pulled deep from a twisted, adolescent mind, thus keeping his music blacklisted from radio stations and labeled by critics as obscene, and in some cases, demonic. As the rapper grew into his sound however, his narratives softened, with his most recent release Call Me If You Get Lost featuring songs fantasizing about the French Open and the beauty of life. This contrast, along with the evolution of Tyler's other ventures such as his brands Golfwang and Golf Le Fleur, as well as his early rap collective, Odd Future, have showcased not only the honing of his artistry, but the blossoming of a human mind. Tyler's music and personal growth has been related to by millions of fans, including myself, and has offered a sense of community and likeness for many who have followed him throughout his years-long career. For me, Tyler the Creator signified a germination within myself, towards accepting and expressing the parts of myself that I had long repressed throughout my early life. If there is any example of finding success in breaking the mold in being whole-heartedly true to oneself, Tyler, the Creator is it.
In the mid 2010's, the experimental sounds of Tyler, the Creator's Cherry Bomb and the life of a reserved, rural Nevadan girl had few commonalities. Growing up in a town seemingly built on the back of uniformity, I did my best to tuck away the parts of me that did not follow suit with those of my peers. At a highschool crested with a stalk of alfalfa as its mascot, I knew that my more alternative interests were, at the time, a far cry from the tastes of my classmates. 
My introduction to Tyler's music began with the discovery of his former collective, Odd Future. In or around 7th grade, I began listening to The OF Tape Vol. 2 in hopes of impressing my preteen crush who had posted a photo of the iconic OF donut logo on their Instagram. I was quickly hooked by the gritty production and diverse vocals of the varying members of the group. Odd Future's aesthetic at the time checked every box of the things I wished I could involve myself in, from skate culture to outlandish humor and colorful, boyish clothing. With time, I began to explore the discography of other members of the group including Earl Sweatshirt, Vince Staples, Frank Ocean, MellowHype, and of course, Tyler, the Creator. Falling most profoundly in love with his tape WOLF, Tyler quickly rose to the top of my most listened to artists. After the release of Flower Boy, seen by many as his first pivotal step towards his more refined style, Tyler's music gained some mainstream recognition and I became more comfortable sharing my interest in his music. No longer, I believed, would it be met with disapproval. 
Now, this is not to say that I was the only person in my entire town listening to Tyler the Creator, someone who, even at the time, was by no means an underground artist. More so, it was my fear of being 'different' that had held me back from connecting with those around me who might have shared the interests I had thought were far too my own. Tyler the Creator's music has always been rooted in the notion of individuality, with Tyler often lyricsizing about being the odd one out of his peer group but choosing to simply be himself. Eventually, I came to understand this lesson, no longer separating the person I was inside from who I portrayed myself as to everyone else.
Through middle school and into my early highschool years, Tyler remained extremely pertinent to my growth as a music listener, introducing me to other 'alternative' sounds such as those of A$AP Rocky, Blood Orange, and Jaden Smith. It's laughable for me now to consider these artists as niche, but my exploration through their genres then opened the door to the diverse array of music I listen to and enjoy today. In 2019, Tyler embarked on the Igor tour, and it was at his stop in Reno, Nevada that I attended my first concert. Music has been, and is now more than ever, a crucial part of my life, so my first concert is a memory I hold near to me. Standing in the buzzing crowd, all unified by a love of one of the things I felt so wholly identified with at the time, elicited an excitement in me that has fueled a love for music and community that thrives within me today. At that concert, hearing and feeling the songs that had walked me through the many transitions of my adolescence being played live in front of me by the artist I associated so deeply with my own coming into of myself, I was transfixed by a feeling of utter gratitude, elation and a full-circle understanding of my own self growth. 
Crass and rebellious in the beginning, with a tangible development through each record towards a softer and more introspective sound, the timeline of Tyler's discography closely mimics that of one's crossing from adolescence into adulthood. Not only did Tyler the Creator's music influence much of the way I expressed myself throughout my growing up, but my love for his music introduced me to a part of myself I hold so central today. Like the familiarity of a childhood friend, I will always look towards Tyler's music in remembrance of my childhood and the way I, parallel to his music, blossomed from adolescent to adult.
Was this article helpful?