Sadness might be a universal emotion, but Bruno Mars and Anderson .Paak want the players and simps to all feel fly.
In their highly anticipated collaboration, Peter Gene Hernandez (Bruno Mars) and Brandon Paak Anderson (Anderson .Paak) use their established performing personas to tell a story of friendship, lost love, and absolute wins for two seemingly different but surprisingly similar men.
Hernandez debuted his solo discography as Bruno Mars with hits such as "Just the Way You Are" and "Grenade," leading the general public to perceive him as what I like to call "life-on-the-line" down bad in the best way possible. Lyrics about a girl whose "… eyes / Make the stars look like they're not shinin'" but will "… smile in [his] face and rip the brakes out [his] car" featured on the same album paint the picture of a man that loves too hard but can't seem to draw himself away from toxic relationships. Although Bruno Mars shifted towards the player vibe during the 24K Magic era, when Hernandez writes for other artists, his heartfelt ballad style (e.g. Adele's All I Ask) consistently comes through to reflect how his love is lifelong, regardless of what happens. The way that Bruno Mars writes about women places them on a pedestal, highlighting the beauty and perfection he finds in darkness.
On the reverse side, Anderson's discography sprinkled with broad intimate terms like "baby" and bass-centric sexual beats make Anderson .Paak a player you want to be played by. Although his attachments to women are impersonal, his humility while doing mesmerizing things keeps you hanging on his every word. "Might Be" on Anderson's first studio album "Venice" reflects this as the speaker's chorus characterizes himself as both humble and superhuman with how he asks the woman he is with a question he already knows the answer to: Yes, she is turned on by him. And she is high off of simply talking to him.
I​​ get the feelin' that ya might be
Did I turn you on?
You can tell me if I'm wrong
But I'm feelin' that ya might be
And we ain't even smoke
But you swear I got that dope
And I'm thinkin' you'd like to be
Every word I speak
Got you floatin' off your seat
And I'm knowin' that you like me
Oh you high baby, high baby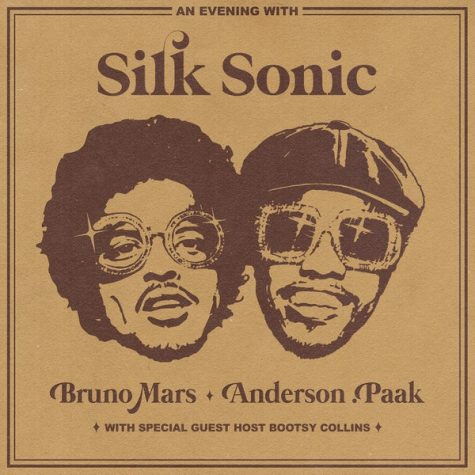 With the personas of Bruno Mars and Anderson .Paak established, how do these two come together to create the story of "An Evening With Silk Sonic?" The two men's paths don't actually cross until the fourth song on the album, "Smokin Out The Window," in which they, from separate windows, contemplate how they can't get the women they were just with out of their minds despite them feeling mistreated. However, their paths have the same beginning as they both sing the verses and chorus in "After Last Night," a song about how mind blowing the women in their respective lives are and how they would do anything to be with them. It's understandable to see how Bruno Mars is hung up on his girl considering his for-lifer outlook on love, but in Anderson .Paak's case, it's because the player has lost at his own game. Similar to the humble questioning in "Might Be," the woman in "After Last Night" asks "Was it good for you?" almost as if she knows full well that they are about to sing a song about how she "changed the game." In Anderson .Paak's mind, this woman is so amazing that he would be willing to leave the player's life behind and become a for-lifer: "Throw my phone out the window, there's no player in me / Those days are through." In "After Last Night," both men admit their full commitment to their respective women through monetary, emotional, and physical support, which makes the inevitable heartbreak even more painful.
When the pain expressed in "Smokin Out The Window" initially starts, Bruno Mars and Anderson .Paak hold their usual roles. Bruno Mars uses the first verse to sing about how he spent so much money buying her jewelry, had her kids live with him, and fought her ex-boyfriend for her, all things that one would do in a committed partnership. The amount of detail he uses to talk about these demonstrations of affection shows the personal dedication he had for this woman. Meanwhile, Anderson .Paak uses the chorus to curse her out instead, viewing these things he did for her as a waste of time since he got nothing in return. The lack of detail compared to Bruno's verse makes the chorus sound impersonal as if being played is more annoying and inconvenient to him. However, the duo switches roles when the second verse and chorus come around. Anderson .Paak now has the verse, punctuating it with "Not to be dramatic, but I wanna die." His verse reflects how much this woman has changed him. He gave up his lifestyle for her. He threw away his phone. And the woman threw his love away in return. He would rather die than to not have this woman by his side, a sentiment similar to that seen in "Grenade" in which Bruno Mars would "jump in front of a train for" his lover. However, Bruno Mars on the chorus does not maintain the for-lifer sadness from his previous work and instead takes on a different emotion: anger. Bruno Mars's pedestal for women in his prior songs falls away as he sings "This bitch" in the most derogatory way possible. Although not the same as Anderson .Paak's affectionate use of "baby," both are impersonal terms for women used in the player lifestyle. The nicknames place distance between the men and the women in an attempt to be angry at the situation rather than being heavily heartbroken.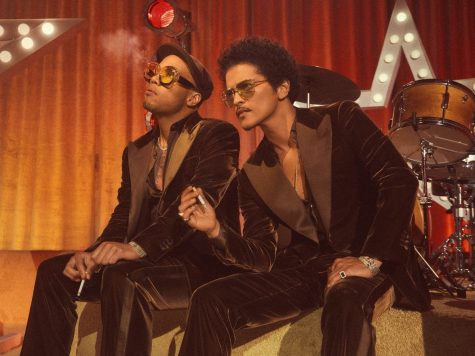 Sadly, no matter how much you call a woman a bitch, you're still going to be very sad about what happened between you two. That brings us to "Put On A Smile," the fifth song on the album. Regardless of player or simp status, sadness is pervasive. It aches. It builds and builds until you finally accept that "the only thing worth smilin' for" is gone. For the pre-chorus and chorus, Bruno Mars and Anderson .Paak sing back and forth rather than reserve them for a single person. These men are going through pain together, and only the other person understands the other's frustration and anger as the song crescendos and changes keys towards the end as they repeat "When the only thing worth smilin' for." And only they understand each other when the drums that have been building up for so long suddenly fall away and the audience is left with hallowed harmonies and the feeling of a heart dropping.
So how do you cure a broken heart? Go to Vegas with your new best friend who was also crying out his window and use your combined powers to get into actually healthy relationships. The rest of the album is about the power of friendship, gambling, and drugs. And really, that's all you need. Following their winning streak in "777," the two men use their combined powers, Anderson .Paak's smoothness and Bruno Mars's unapologetic loving, to forge new meaningful connections with people. Instead of leaving the door open for anyone to come through, they are now asking their prospective love interests to "slide [their] way on over" in an effort to actually "get to know [them]" in "Skate." This communication change allows them to understand who they are investing their time into. The only gambling they intend to do is in the casinos, not in their relationships where people can take advantage of their assets. The album ends with the psychedelic hope of "Blast Off." Although these two friends may not "know where [they're] goin', " they're ready to go on an adventure together full heartedly with new perspectives on life and love. And psychedelics. They "got a little more if you're ready, [you] can have it all."
"An Evening With Silk Sonic" is an incredible concept album to listen to straight through thanks to the creative direction and lyricism of Bruno Mars and Anderson .Paak. Next time you play this album, listen with your best friend, somebody as fly as you are.